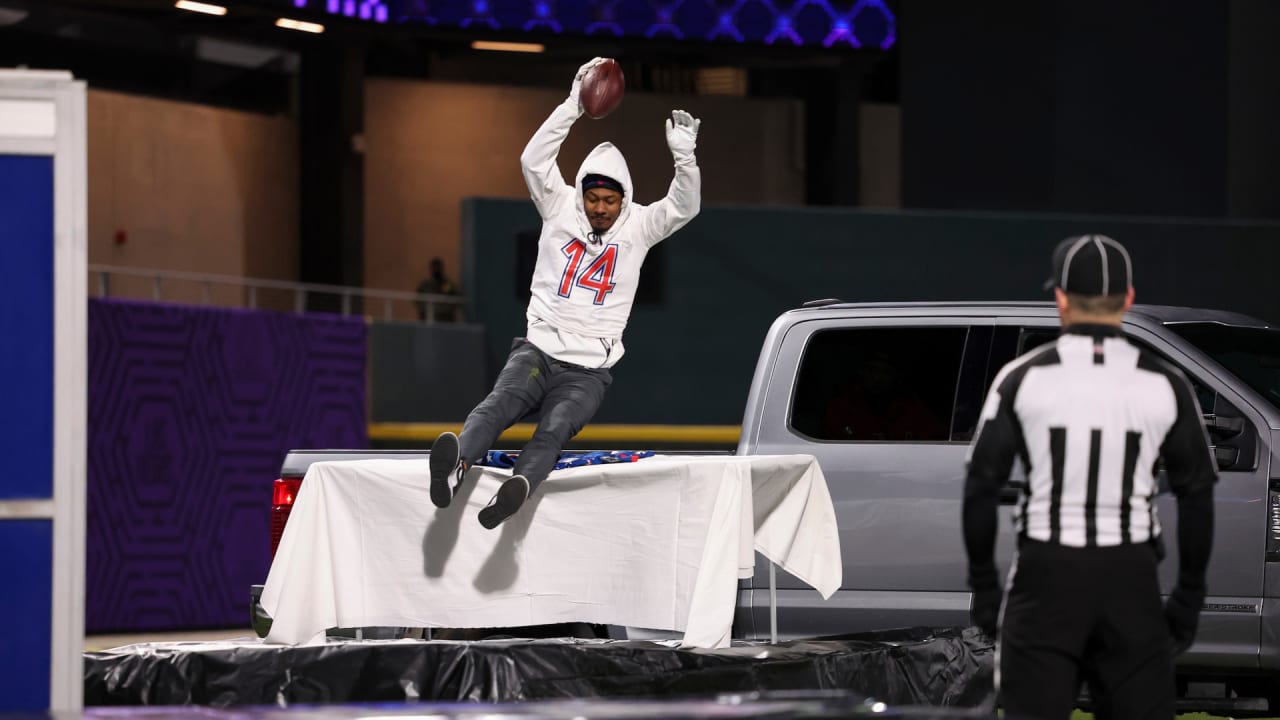 The most recent edition of the Pro Bowl Skills Showdown was completely dominated by the NFC conference. There were seven events played throughout the night, with the NFC winning six of them. Let's take a look at how they went down and who competed.
Precision Passing
Seattle Seahawks quarterback Russell Wilson helped the NFC get an early lead in the event. He dropped in 29 points, a new record for the event. The AFC quarterback, Mac Jones, only registered eight points. Justin Jefferson tried his hand at the precision passing drill as well but couldn't score a point. The same goes for Hunter Renfrow, as he tried it and scored only one point. Wilson dominated the entire event and netted his conference the first point.
Fastest Man
The fastest man event saw Kansas City Chiefs wideout Tyreek Hill, Cleveland Browns running back Nick Chubb, Dallas Cowboys cornerback Trevon Diggs and the Cowboys rookie linebacker Micah Parsons. Everybody thought that Hill would win this event in a landslide, but it didn't end up that way. Parsons, the linebacker, outran them all and barely got across for the NFC victory. However, it should be noted that Tyreek Hill barely even tried after getting a slow start. It looked like he jogged the entire distance.
Thread the Needle
This was a tough competition for either side. A quarterback from each conference had to throw the football into different holes on a wall with points labeled above them. The catch was that there was a defender from the other conference in front of the wall. If they intercepted the quarterback, they would lose three points. Kirk Cousins was throwing against Derwin James and Denzel Ward while Mac Jones went against Trevon Diggs and Darius Slay. Diggs came up with a huge interception to drop Jones down by three points. Although, it just wasn't enough as Jones won the event anyways 12-11 against Cousins. It was the first and only point the AFC scored.
Best Catch
People were claiming that this was the most exciting event of the night. Tyreek Hill, Justin Jefferson, Stefon Diggs and Trevon Diggs all competed to make crazy acrobatic catches. Stefon Diggs had jumped off something and through a table in honor of Buffalo Bills fans, but his score didn't help him win. Jefferson was supposed to win after earning a perfect score. He cartwheeled in the air and caught a ball from the mascot with sunglasses on. Somehow, Trevon Diggs ended with the highest cumulative score though and won after doing a somersault off the trampoline and catching it. Either way, the two NFC representatives dominated.
Dodgeball
The AFC conference has won this event two years in a row. Mostly because Jarvis Landry has been incredible. Landry wasn't there this time, and at one point the AFC saw themselves have an advantage late in the competition. Everybody was out except for Justin Jefferson on the NFC side but he narrowed it down to just him and Nick Chubb. Jefferson missed his throw, then Chubb fired back quickly. Jefferson then caught the ball against his hip with one hand and ended the event. Sealing the win for the NFC.
Pro Bowl Skills Showdown to Make a Return Next Year
It isn't surprising to hear that the Pro Bowl Skills Showdown will be coming back again next year. The fans have a lot of fun watching their favorite stars battle it out in fun challenges. Plus, it is wildly more popular than the Pro Bowl game these past few years.
If you care to check out more news from around the league, click here to head over to our NFL page.