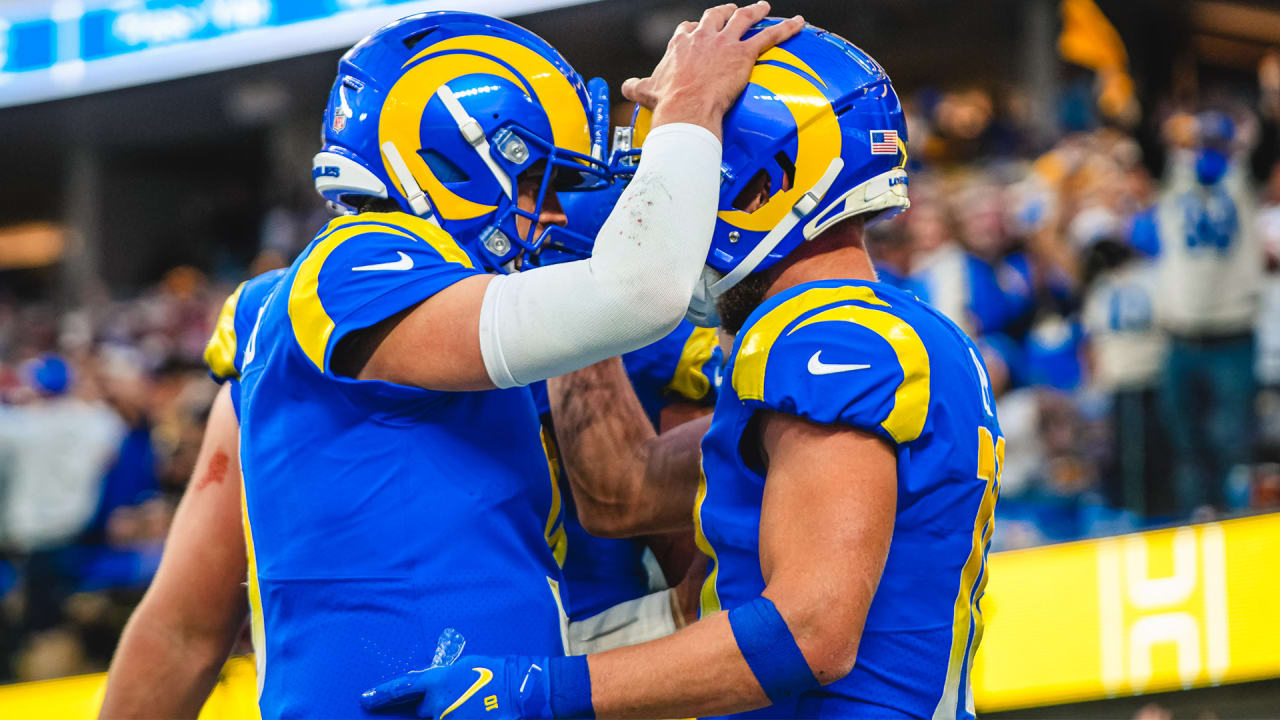 All good things must come to an end, the Los Angeles Rams just stopped the San Francisco 49ers miraculous playoff run. After taking down the Dallas Cowboys and the Green Bay Packers, both on the road, the 49ers took the trip to face the Rams for the third time this season. Los Angeles lost the last six meetings against them but won this game 20-17.
Rams Get into the Super Bowl!
Matthew Stafford continued to play phenomenal football for this group. He had thrown for 337 yards, two touchdowns and one interception on the night with a 103.7 quarterback rating. He was forced to take over the game plan for the offense as their run game was practically non-existent. Cam Akers had 13 rushes for only 48 yards and Sony Michel had 10 carries for 16.
In the receiving game, Cooper Kupp obviously led the way. It is seemingly impossible to slow him down regardless of defensive coverages or schemes. Kupp hauled in 11 catches for 142 yards and two touchdowns on the day. Odell Beckham took some pressure off of him as well, bringing in nine receptions for 113 yards himself. Kendall Blanton had 57 yards on five catches but was really the only other wideout to get involved with Tyler Higbee playing only a few downs before getting injured.
They didn't do much of anything defensively though. Despite having so much talent on this side of the field, they didn't get a single sack on Jimmy Garoppolo. On top of that, they only forced one turnover. It was a Travin Howard interception. Los Angeles has to find a way to make bigger plays defensively in the Super Bowl.
Quarterback Changes Ahead For 49ers
Garoppolo didn't lose them this game, he just didn't help them win it either. He threw for 232 yards, two touchdowns and one interception in the game. Their run game didn't really help him out in his defense. Deebo Samuel had seven rushes for 26 yards while Elijah Mitchell took 11 handoffs for 20 yards. Neither scored a touchdown on the ground.
In the passing game, Deebo Samuel was the leader once again. He only had four receptions, but they totaled 72 yards and a long 44-yard touchdown. Brandon Aiyuk had 69 yards in total and George Kittle only had two receptions for 27 yards but snagged the other touchdown.
Defensively, they almost won this game. They racked up two sacks on Stafford in this game with Nick Bosa contributing 1.5 of them. Jimmie Ward also came away with a crucial interception in the end zone in the first half. Unfortunately, Jaquiski Tartt dropped an incredibly easy interception in the fourth quarter. A drop that the Rams took advantage of shortly afterwards. Stafford completed a 40 yard pass the next play and the Rams kicked the field goal that would eventually seal the win for them.
There are already reports flying around that the 49ers and Garoppolo are working together to find a suitable trade partner. This was likely the final game we will ever see Garoppolo on the 49ers.
If you care to find out more about the NFL, be sure to click here!